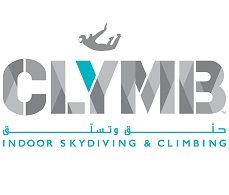 CLYMB™ Abu Dhabi
Reach new heights at the world's ultimate adventure hub, CLYMB™ Abu Dhabi at Yas Mall. Housing the world's widest indoor skydiving flight chamber with an unmatched width of 32 feet and the world's tallest indoor climbing wall, measuring a mountainous 140 feet in height, gear up to conquer two record-breaking experiences all under one roof.
+971 600 511115
Book Online Now! https://tickets.clymbabudhabi.com/
Sunday to Thursday 12:00pm – 9:00pm
Friday and Saturday 1:00pm – 10:00pm
Location:
Ground Floor
Location map is not available.